IVAN MILUTINOVIC-PIM, Serbian leading engineering and contracting company for waterways.
The company has had a long and successful history in a broad field of marine and civil engineering in many parts of the world.
The company has operated under the present name since 1952, but the activities of the company began with the first work on the Danube and Sava rivers on Yugoslav teritory in the early twenties of this century. Several small Yugoslav companies specialized in dredging, construction and salvage, which carried out various kinds of work on these rivers between the two world wars, werw merged in 1951 to form a new company named "Dunav". In 1952 the "Dunav" was given a new name IVAN MILUTINOVIC and since then the company has operated under this name as endineers and contractors in Yugoslavia and the world over.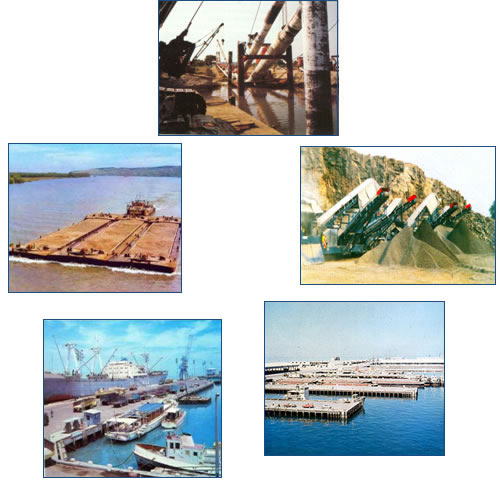 During this period IVAN MILUTINOVIC has undertaken many major projects in Yugoslavia and in several other countries. One of the first successfully completed major projects was the causeway across Skadarsko Lake for the Belgrade-Bar railway line in Yugoslavia (1958). Three years thereafter, in 1961, IVAN MILUTINOVIC made its first bid on the internacional civil engineering market contracting the Salt Lakes reclamation project in Calcutta, India.
The activities of IVAN MILUTINOVIC can be clasified into the following three groups:
- execution of capital investment projects
- Production and distribution of building materials, and
- Specialized services ( water transport, under-water work, design and consulting, engineering services, plant maintenance ).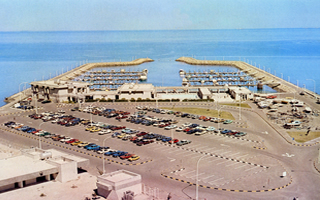 Amongst the projects carried out by IVAN MILUTINOVIC the following are worth mentioning:
- seaports: paradip and Haldia in India; Shuwaikh port in Kuwait; Misurata and Benghazi harbour in Libya; Chalna port in bangladesh; Um Qasr port in Iraq, Bar port extension in Yugoslavia and Reni port in Russia.
- shipyards in Chittagong (Bangladesh), Bombay (India), Kuwait, Bijela and Tivat (ex Yugoslavia) and Um Qasr in Iraq.
- fishing ports: in Tunisia at Sousse, Soukrine, Sayada; in Libya at Abu Khammash, Marsa Znaga, Zanzur, Khoms, Zrik, Benghazi, Tolmeida and Ain Gazala; in Kuwait (Sulaibihat) and five fishing jetties in Shuwaikh port (Kuwait)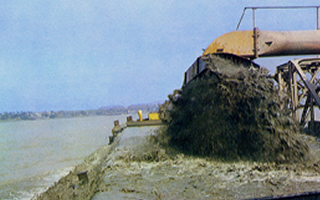 IVAN MILUTINOVIC has carried out many project on inland navigable waterways such as:
- inland ports: on the Danube river at Apatin, Vukovar, Belgrade, Pancevo, Smederevo, Tekija, Kladovo and an industrial port in Prahovo; ports on the Sava river at Brcko, Sremska Mitrovica, sabac, Zabrezje; ports on the Drava river at osijek on the Tisza river at senta; on the Danube-Tisza-Danube canal at Novi Sad; the river port Garmat Ali at Basra (Iraq) and others.
- locks and gates on inland navigation --waterways such as a lock gate on the Danube-Tisza-Danube canal at Vrbas, a cofferdam and lead-in jetties for the becej dam on the Tisza, a cofferdam for the Djerdap (Iron Gates) dam on the Danube, etc.
- river shipyard in Belgrade and Kladovo
- river training works on the Danube, Sava, Drava, Morava and their tributaries.
- embankment improvement on the Sava and Danube river in Belgrade and Novi Sad.
Another traditional activity of IVAN MILUTINOVIC is dredging and reclamation and earth works. These are some of the major projects:
- earth moving work for the main canal on the Danube-Tisza-Danube hydro-system in Yugoslavia
- land reclamation for New Belgrade,
- Salt Lakes reclamation in Calcuta (India),
- dredging and reclamation work for the ports of paradip, Haldia, Visakapatnam,
Marmugao-Goa and Bombay (India), the port of Shuwaikh (Kuwait), Misurata port and Benghazi harbour in Libya,
- river dykes along the Sava and danube in Yugoslavia,
- dredging and maintenace of rivers and navigable waterways in ex Yugoslavia,
- construction of earth dams and dykes for the disposal of industrial ashes at Obreno-vac and Kostolac

Installation of underwater pipelines is one more activity which IVAN MILUTINOVIC carries out sucnessfully. The following are some of the underwater pipelines installed by the organization;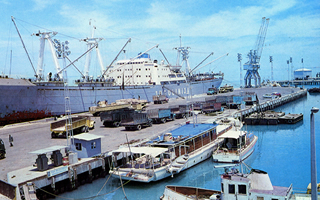 - underwater gas pipelines: across the Danube at Pancevo and Batajnica, the Tisza at Senta; the Tamish at Pancevo; the Sava at Ostruznica and Sabac; the Morava at Cupria and the Drina at Loznica,
- underwater oil pipelines: across the Danube at Vukovar; the Sava at Slavonski Brod; Ruscica and Sisak, and the Tisza at Titel,
- underwater water pipelines at Belgrade and Pancevo.
IVAN MILUTINOVIC has also undertaken:
- construction of cooling water intakes for thermo-power plants at Homs (Libya), Novi Sad and Obrenovac (ex Yugoslavia); distilation plant intake in Kuwit, cooling, water intakes at Dujaila (Iraq);
- water supply projects, such as reniwells at Belgrade, water supply for Titograd (ex Yugoslavia), water distribution networks in many towns in ex Yugoslavia and other countries,
- sewerage systems, such as the main sewer in Belgrade, Niksic and Titograd, water treatment plants at Niksic and Trebinje, sewerage networks in many places in ex Yugoslavia and abroad,
- roads, railways and bridges, such as the causeway across Skadarsko Lake for the belgrade-Bar railway, bridge across Moraca in Titograd, roads, railways and paving in many ports built by the organization,
- buildings, administration, industrial, ware-house in ex Yugoslavia and several other countries.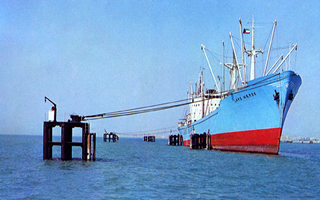 One of permanent activities of IVAN MILUTINOVIC is quarryng, transport and delivery of stone materials for civil construction, hydro-projects, roads, railways, chemical and metalurgical plants, both for its own use and for the market. Annual production of stone materials has reached 1,5 million cubic meters; Besides the capital investment projects mentioned above IVAN MILUTINOVIC has developed several other activities of which the most important are the following:

- water transport of building materials, gravel, sand, quarry stone, cement etc..., including recovery, transport and distribution of these materials to customers in quantities exceeding 5 million tons annually;
- underwater work, salvage work (about 1000 sunken vessels have been recovered so far), laying underwater pipes and cables underwater erection and inspection for many projects in ex Yugoslavia and abroad;
- design and consulting services, including survey and investigation work and supervision during construction. many projects executed by IVAN MILUTINOVIC have also been designed by its own design department;
- engineering services, including execution of projects on a "turn key" basis;
- plant maintenace, land-based and floating, including shipbuilding activity for its own use and for others;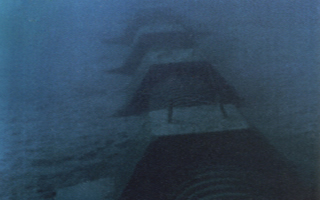 The activities of IVAN MILUTINOVIC cover all stages of projects, from preliminary investigations, including engineering and economic feasibility studies, master plans, preparation of designs, contract drawings and documents, construction and maintemance on a "turn key" basis in manu fields of civil and marine engineering.